|

HANAMARU - JAPAN'S UDON RESTAURANT MARKET LEADER|
|

HANAMARU - ONE OF JAPAN'S LARGEST UDON FRANCHISE CHAIN|
|

A BRIEF COMPANY HISTORY|
|

Key Company Data|
|

Subsidiary Company|
|

Selected Financial Data|


Hanamaru, Inc., is attracting considerable attention in Japan among customers. Udon noodle which we mainly deal in the Japanese traditional way - are more demanded recently among health conscious consumers. Now we challenge to acquire No.1 Customer Satisfaction in the world to provide excellent service including hospitality, product quality, cleanliness, accuracy and speed.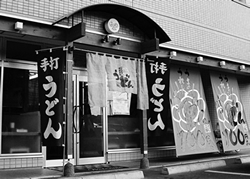 When Japan's discerning Udon connoisseurs'which are just about everyone - eat out, they expect, and demand, the "real thing." For this reason, especially in Kagawa Prefecture the Udon served in restaurants is almost always made on the premises or at a small-scale local factory and delivered fresh each morning. Until recently and unlike many other traditional Japanese dishes, there were no nationwide Udon restaurant chains. When Hideto Maeda, the founder and ex-CEO of Hanamaru, launched his business in 2001, he saw a big opportunity to use modern management and logistics techniques to bring Japan's most famous Udon variety - Sanuki Udon - from his home area to a much wider audience. As of 1 Apr 2016,the total number of restaurants in the Hanamaru chain was 415 including directly run and franchise outlets serving over 4 millions customers each month. A major part of this success may be attributed to being able to offer authentic Sanuki Udon to consumers in Tokyo and other large cities. The restaurant's popularity is also enhanced by offering a wide choice of dishes and combinations at reasonable price.

President and CEO Yoshitaka Kadowaki
Hanamaru, Inc., was founded in November 2001 in Takamatsu, the capital city of Kagawa Prefecture, Japan's famous home of Sanuki Udon. The company has built and currently manages a sophisticated franchise system, encompassing store design, location selection, franchisee and staff training, logistics, ingredient production and marketing.

In 2002,Hanamaru opened a flagship restaurant in Tokyo's prestigious Shibuya shopping district.
In June 2006, Hanamaru became an consolidated subsidiary company of Yoshinoya Holdings Co.,Ltd., which holds one of the biggest Japanese restaurant chains called "Yoshinoya"(1,188 restaurants in Japan, 663 in international) specializing in gyudon, or "beef bowl" with its over 115 year's history in Japan.

(As of 1 Apr 2018)
Name
Hanamaru, Inc.
Established
November 22, 2001
Capital
JPY100,000,000
President and CEO
Yoshitaka Kadowaki
Full-time Employees
489
(Excluding franchisees and franchise staff)
Number of Factories
5



Restaurants
System-wide Sales


(Millions of JPY)

Sales Revenue


(Millions of JPY)

2018/2
458
30,610
26,062
2017/2
415
27,551
22,951
2016/2
375
25,621
20,701
2015/2
345
24,025
18,754
2014/2
330
23,037
17,595